DIVERSITY NEWS DECEMBER 2006
Welcome to the December Edition of Diversity News!

This month's articles include:
The Ultimate Cake Giveaway
World AIDS Day 2006
Stress-Free GLBT Holiday Tips
Top 5 Promotional Items for Your Business
and More!

**Be sure to forward to your friends and coworkers!

To forward this newsletter scroll to the bottom and type in a friend's email address.
Your comments and suggestions are always welcome.
Commemorating World AIDS Day 2006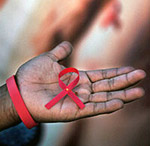 Twenty-five years have passed since the first AIDS case was diagnosed.
And now, there are 40 million people worldwide living with HIV.

Dec. 1 was World AIDS Day, a time for people around the globe
to unite in the fight against HIV and AIDS.

But the third annual World AIDS Day report card
continues to give failing grades to U.S. response. Learn more...



AIDS TIMELINE
1959: Scientists isolate what is believed to the the earliest known case of AIDS.
1978: Doctors notice the startling presence of "Gay Cancer" (later known as AIDS) in otherwise healthy gay men in the U.S.
1982: The term AIDS is coined
1983: Uber neocon Patrick Buchanan demands NYC Mayor cancel Gay Pride Parade as a health threat.
1985: President Ronald Reagan mentions AIDS for the 1st time in a public speech.
1986: Actor Rocks Hudson dies from AIDS
1987: AZT becomes the approved 1st drug for the treatment of AIDS.
1990: Congress passes the Ryan White Care Act, named for the hemophiliac Indiana teenager who died four months earlier from AIDS.... President Reagan apologizes for his neglect of the AIDS crisis during his presidency.
1991: Basketball play Magic Johnson announces that he has HIV.
1992: Actor Robert Reed (from The Brady Bunch) dies from AIDS.
1996: The number of deaths from AIDS in the U.S. is nearly 35,000... Time magazine announces David Ho (AIDS researcher) as "Man of the Year."
2002: HIV is the leading cause of death worldwide among those aged 15 to 59... The FDA approves OraQuick, the 1st rapid HIV test.
2005: A national scare erupts when one promiscuous crystal-meth user in NYC develops AIDS from HIV far more quickly than ever seen before. This sets off a premature uproar about a "supervirus"... Ultimately, it turns out to be an isolated incident, not a pandemic
2006: There are over 1 million cases of HIV in the U.S., and 1 out of 4 people who are HIV-positive are not diagnosed.


Provider of the Month - Insomniac Arts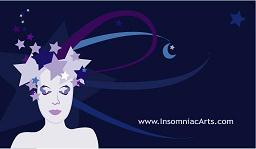 Promoting Your Business- Effective and Affordable Solutions to Set Your Business Apart

We all agree business cards are necessary to your business's success. And when done right they not only make your business much more memorable, but they can also add personality to your business! The talented experts at "Insomniac Arts" create excellent custom business cards.

What else can you do to set your business apart from the rest?
What's really going to put a spark in your clients' eyes this year? Here's some ideas...

Top 5 Promotional Items for 2007

5.Postcards - Great to send to potential clients, letting them know more about
your business, or to existing clients as a reminder to come back.

4.Magnets - Available in many sizes, they are a highly effective
marketing tool that provides constant visibility.

3. Mugs - Whether you choose insulated cups or coffee mugs,
these can be used by clients at work or at home,
stimulating conversation about your business.

2. Calendars - Great holiday gift for your clients to thank them
for their continued business. It advertises for you all year long!

1. Shirts & Apparel - Shirts are great for your employees, making them
easily identifiable to customers and professional looking.
As gifts for clients, shirts and hats advertise for you
everywhere they go! Besides, who doesn't love a free shirt?
Contact our friends at Insomniac Arts for information on any of these items!
* Enjoy Your Holiday Food AND Stay Fit *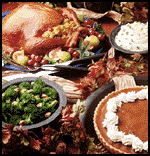 by Jeff Howerton
Out & About Newspaper

It may seem contradictory for your personal trainer's first column to discuss the enjoyment of holiday food, but that's exactly what I'm going to do. Well, sort of.

There's no getting around the fact that holiday meals are loaded with calories, nor is there much chance that you're going to pass up your favorite foods around this time of year. So I'd like to familiarize you with certain strategies you can implement that will help cut your losses (or gains)...

Watching what you eat may NOT be the most practical way for good holiday eating management, though, since most of these meals consist of traditional staples that don't match up with great nutrition. Instead, watch HOW MUCH you eat...

Next, look at your physical expenditure — or put more plainly, how much you exercise ... Keep in mind that all the food you eat is energy! ... For the calories you eat, you need to think about the exercise you'll do to burn those. Hold yourself accountable...
Click here to Read More of this Article - in Out & About Newspaper!
* Top 5 Books for GLBT Holiday Giving *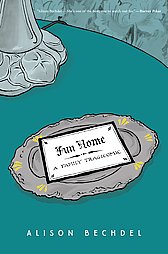 1. Fun Home: A Family Tragicomic by Alison Bechdel
This autobiography by the author of the long-running strip, Dykes to Watch Out For, deals with her childhood with a closeted gay father, who was an English teacher and proprietor of the local funeral parlor (the former allowed him access to teen boys). Fun Home refers both to the funeral parlor, where he put makeup on the corpses and arranged the flowers, and the family's meticulously restored gothic revival house, filled with gilt and lace, where he liked to imagine himself a 19th-century aristocrat.

2 Self-Made Man: One Woman's Journey into Manhood and Back by Norah Vincent Former Los Angeles Times op-ed columnist Vincent [was] employed to trick dozens of people into believing her a man was carefully thought out. As "Ned," Vincent joined an all-male bowling league, dated women, worked for a door-to-door sales force, spent three weeks in a monastery, hung out in strip clubs... She creates rich portraits of the men she met in these places and the ways they behaved—as a lesbian, she's particularly good at separating the issues of sexuality from those of gender. But the most fascinating part of the story lies within Vincent herself—and the way that censoring her emotions to pass as a man provoked a psychological breakdown.

3. The Night Watch by Sarah Waters Moving back through the 1940s, through air raids, blacked out streets, illicit liaisons, sexual adventure, this book ends with its beginning in 1941 This is the story of four Londoners - three women and a young man with a past, drawn with absolute truth and intimacy. Kay, Helen, Viv, Duncan... Their lives, and their secrets connect in sometimes startling ways. War leads to strange alliances...


4. Grief: A Novel by Andrew Holleran An understated, eloquent novel by Holleran (Dancer from the Dance) captures the pain of a generation of gay men who have survived the AIDS epidemic and reached middle age yearning for fidelity, tenderness and intimacy. The unnamed, silver-haired narrator has just relocated from Florida, where he cared for his recently deceased mother for the last 12 years, to Washington, D.C., to "start life over" and teach a college seminar on literature and AIDS.

5. Covering: The Hidden Assault on Our Civil Rights by Kenji Yoshino Seldom has a work of such careful intellectual rigor and fairness been so deeply touching. Yoshino, a law professor at Yale and a gay, Asian-American man, masterfully melds autobiography and legal scholarship in this book, marking a move from more traditional pleas for civil equality to a case for individual autonomy in identity politics. In questioning the phenomenon of "covering," a term used for the coerced hiding of crucial aspects of one's self, Yoshino thrusts the reader into a battlefield of shifting gray areas.
"And the Grinch, with his Grinch-feet ice cold in the snow,
stood puzzling and puzzling, how could it be so?
It came without ribbons. It came without tags.
It came without packages, boxes or bags.
And he puzzled and puzzled 'till his puzzler was sore.
Then the Grinch thought of something he hadn't before.
What if Christmas, he thought,
doesn't come from a store?
What if Christmas, perhaps, means a little bit more?"

Happy Holidays from Diversity Builder!


Thank you for supporting DiversityBuilder.com! Your comments and suggestions are always welcome.
Your Diversity Builder Staff