The Diversity Builder Team
Wishes You New Growth

WELCOME to the April Edition of Diversity News!

This month's articles include:

Skinhead Confessions: From Hate to Hope

Morocco's Festival of World Sacred Music

Biotrauma, Inc.

Thoughts on Spring

Diversity Spotlight: Award Winning Screenwriter Speaks Out


Be sure to forward to your friends and coworkers!

To forward this newsletter scroll to the bottom and type in a friend's email address.
---
Diversity Spotlight: Award Winning Screenwriter Dustin Black Speaks Out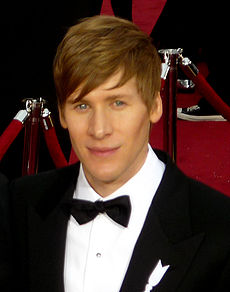 Growing up surrounded by Mormon culture and military bases, Dustin Black worried about his sexuality. When he found himself attracted to a neighborhood boy, he remembers telling himself, "If I ever admit it, I'll be hurt, and I'll be brought down." He says that his "acute awareness" of his sexuality made him dark, shy and at times suicidal, and he only came out after leaving high school.

When going to North Salinas High School, Black began to work in theater at The Western Stage in Salinas-Monterey, California, and later worked on productions including Bare at Hollywood's Hudson Main Stage Theater. Black graduated from the University of California, Los Angeles, School of Theater, Film, and Television (UCLA) while apprenticing with stage directors, taking acting jobs and working on theater lighting crews.

In 2000, he wrote and directed "The Journey of Jared Price", a gay romance film, and "Something Close to Heaven", a gay coming-of-age short film. In 2001, he directed and was a subject in the documentary "On the Bus" about a Nevada road trip taken by six gay men. In 2006, he was hired as a writer on the HBO drama series Big Love about a polygamistic family. He has written for all seasons, serving on season one as a staff writer, executive story editor in season two, and was promoted again, to co-producer, for season three.

Black had first visited San Francisco in the early 1990s and was inspired by city supervisor Harvey Milk's representation of the gay community. In college, he viewed Rob Epstein's documentary "The Times of Harvey Milk", and thought, "I just want to do something with this, why hasn't someone done something with this?" Researching Milk's life for three years, Black met with Milk's former aides Cleve Jones and Anne Kronenberg, as well as former San Francisco Mayor Art Agnos, and began to write a feature film screenplay encompassing the events of Milk's life. The screenplay was written on spec, but Black showed the script to Jones, who passed it on to his friend Gus Van Sant, who signed on to direct the feature.

On February 22, 2009, Black won the Oscar for Best Original Screenplay for "Milk" at the 81st Academy Award. In his acceptance speech at the Oscar ceremony, he said:

"... When I was thirteen years old my beautiful mother moved me and my family from a conservative Mormon home in Texas to California and it was there that I heard the story of Harvey Milk and it gave me hope. It gave me the hope to live my life openly as who I am, and that one day I could even fall in love and maybe even get married...

I want to thank my mom, who has always loved me for who I am even when there was pressure not to.

But most of all, if Harvey had not been taken from us 30 years ago, I think he would want me to say to all of the gay and lesbian kids out there tonight who have been told that they are less than by their churches, or by the government, or by their families, that you are beautiful, wonderful creatures of value, and that no matter what anyone tells you, God does love you and that very soon I promise you, you will have equal rights federally across this great nation of ours.

Thank you and thank you God for giving us Harvey Milk."

Black told the Daily Bruin that "You hear people say, 'This is my reason for being here. This is my compass.' For me, that's 'Milk.' I wanted to maybe inspire the younger generation to start becoming activists in a grassroots way. There's a lot of stuff that still needs changing — not just gay rights."


---
Introducing Diversity Builder's Small Business Blog
View our small business blog - offering helpful internet marketing tips, business networking advice, and how to earn customers on Facebook, Twitter and other Social Networking Sites
---
"Skinhead Confessions: From Hate to Hope"

A background in hate. A life of violence. A love for power.
But all he needed was a moment of truth.

I heard the gasp of horror and knew I'd been caught. "What are those?" she cried, pointing at my body, which was covered from neck to waist in graphic, sinister tattoos. No way was I going to tell her what they meant - the hate crimes I'd committed, the people I'd stabbed and maimed to earn those tattoos. No way was I going to tell her about the hundreds of kids I'd initiated to follow me into the White Power movement and the things they did for me every day.

From his youth, TJ Leyden was taught to fight, to hurt, and to hate. Cunningly brilliant and deceptively clean-cut, TJ found that life with the Skinheads was exactly what he - and they - needed. Quickly rising to the top, TJ recruited members for the Skins, and in return he earned a name and a reputation as one of the most powerful men in the White Power movement. With a skill for fanning the fires of hatred and an ability to elude the law, it seemed that nothing would stop TJ - that is, until he became a father. As his own children grew, so did TJ's uncertainty about the cause he'd endorsed for so long. One fact finally emerged from all the racist propaganda: white power wasn't about being white; it was simply about having someone to hate. And once he realized this truth, TJ knew his life could never been the same. Skinhead Confessions takes you on an unbelievable ride through a dark world of violence to one of openness and faith in the future. TJ's honesty and courage - even in the face of death - have inspired people across America to take action against gang violence and hate crimes. A book unlike any other, this is the amazing true story of one person's journey from hatred to hope.

---
Morocco's Festival of World Sacred Music


Morocco is an ethnically diverse country with a rich culture and civilization. Through Moroccan history, Morocco hosted many people coming from East (Phoenicians, Carthaginians, Jews and Arabs), South (Sub-Saharan Africans) and North (Romans, Vandals, Andalusians (including Moors and Jews). All those civilizations have had an impact on the social structure of Morocco. It conceived various forms of beliefs, from paganism, Judaism, and Christianity to Islam.

Since it's independence a veritable blossoming has taken place in painting and sculpture, popular music, amateur theatre, and filmmaking. The Moroccan National Theatre (founded 1956) offers regular productions of Moroccan and French dramatic works. Art and music festivals take place throughout the country during the summer months, among them the internationally renowned World Sacred Music Festival at Fès. This year's festival runs from May 29th-June 6th and is widely acclaimed as one of the world's great musical events. Now in its 15th year, it brings together performers from every corner of the planet for a week of artistic excellence in Morocco's ancient holy city. It represents the spiritual heart of Islam – peaceful, pluralistic, generous and cheerful as it honours all the world's spiritual traditions and dissolves all boundaries through music and dance. One of this years featured performers is well-known Celtic singer Loreena McKennitt.

This year a tour to Morocco that includes attendance to the festival has been organized by a US based group called Morocco 360 which includes a native Moroccan. The following is a quote by one of last year's participants:

I experienced the most amazing, transforming adventure of my life! This trip is designed and led by native Moroccans and their American family and friends to engage and delight you with warm Moroccan hospitality by staying in Moroccan homes...you leave Morocco as part of their extended family. At the Festival of World Sacred Music, you are inspired by a universal heartbeat that is thrilling and exotic in its multicultural tunings. To top it all off, we slept under an infinite, brilliant canopy of stars in the Sahara after we took a 2-hour camel trek and watched the sun blaze its farewell into the undulating sands. We all were transformed with awe and wonder.

Rebecca Myers
Atlanta, GA
Click here to purchase some festival music on Half.com
---
USMC Crime Scene Cleaners Draw On Iraq Experience as Biotrauma, Inc.


As part of the first group of Marines ever trained to perform search and recovery duties for fallen servicemen overseas, Benjamin Lichtenwalner and Ryan Sawyer realized both the historical and practical importance of their mission from day one. This ultimately resulted in their establishment of Biotrauma, Inc. - a death scene cleaning firm founded on sensitivity for the emotionally traumatized.
"In Iraq, we became seasoned in dialogue with people who were emotionally distraught. Units that incurred a casualty would often times assign an escort for the remains, and that escort would typically be a good friend of the deceased and someone who we would encounter frequently during the course of our work," says Lichtenwalner.

When it comes to biotrauma remediation, timeliness is crucial for families' psychological well being. Sawyer likens the work to his experience in Iraq - maintaining on-call readiness at all hours of the night: "When remains were recovered from the field and sent to our location for documentation, it would most likely happen at night to avoid enemy rocket-fire."

The two Marines gained a deep reverence for the deceased after having performed countless "flight-line ceremonies" as they loaded human remains on aircrafts for transport. "These were respectful commemorations performed by warriors for warriors... without an audience," says Lichtenwalner.

As they service families here in the States, Sawyer and Lichtenwalner say they are elevating the American standard of living. "100 years ago, it was common for a family to bury their own. As a need for sensitivity was realized, the role of the funeral director came into view," says Sawyer. "We consider what we do to be our calling, and truly the next societal advancement over old practice."

The Marines of Biotrauma say that 80% of all incidents are cleaned up by the families themselves, and that public awareness must be increased to prevent familial exposure to psychological stress.

Biotrauma, Inc. is a firm specializing in the decontamination and restoration of suicide, homicide, and natural death scenes for families who have experienced a traumatizing incident in the home. After having spent time in Iraq, Marines Ben Lichtenwalner and Ryan Sawyer returned home to serve the public in the same manner as their fallen brethren overseas.

For more information about Biotrauma Inc., click here.
---
We want your ideas for news and articles!
Diversity Builder wants to hear from you. If you have an idea for an upcoming story, article, or news for an upcoming newsletter, please write to: newsletter@diversitybuilder.com
---
Diversity Discounts and Coupons
Visit our discount and coupons pages and receive valuable savings from our directory members and other corporations!






Swap cds you don't want for cds you do want - it's free!



---
"Thoughts on Spring"


"Change is the constant, the signal for rebirth, the egg of the phoenix."(Christina Baldwin)

"He not busy being born is busy dying." (Bob Dylan)

"If we had no winter, the spring would not be so pleasant; if we did not sometimes taste of adversity, prosperity would not be so welcome." (Anne Bradstreet)

"An optimist is the human personification of spring." (Susan J. Bissonette)

"O, how this spring of love resembleth the uncertain glory of an April day!" (William Shakespeare)

"Turbulance is life force. It is opportunity. Let's love turbulance and use it for change." (Ramsay Clark)

"As sure as spring will follow winter, prosperity and economic growth will follow recession." (Bo Bennett)

---
Thank you for supporting DiversityBuilder.com!

Your comments and suggestions are always welcome and may be emailed to info@diversitybuilder.com.

Your Diversity Builder Staff